THE BEST FREE LOUDNESS METER ON THE MARKET
Youlean Loudness Meter helps you find the true perceived loudness of your audio and prepares it for TV or streaming services release.
Join the thousands of recording studios that already use it.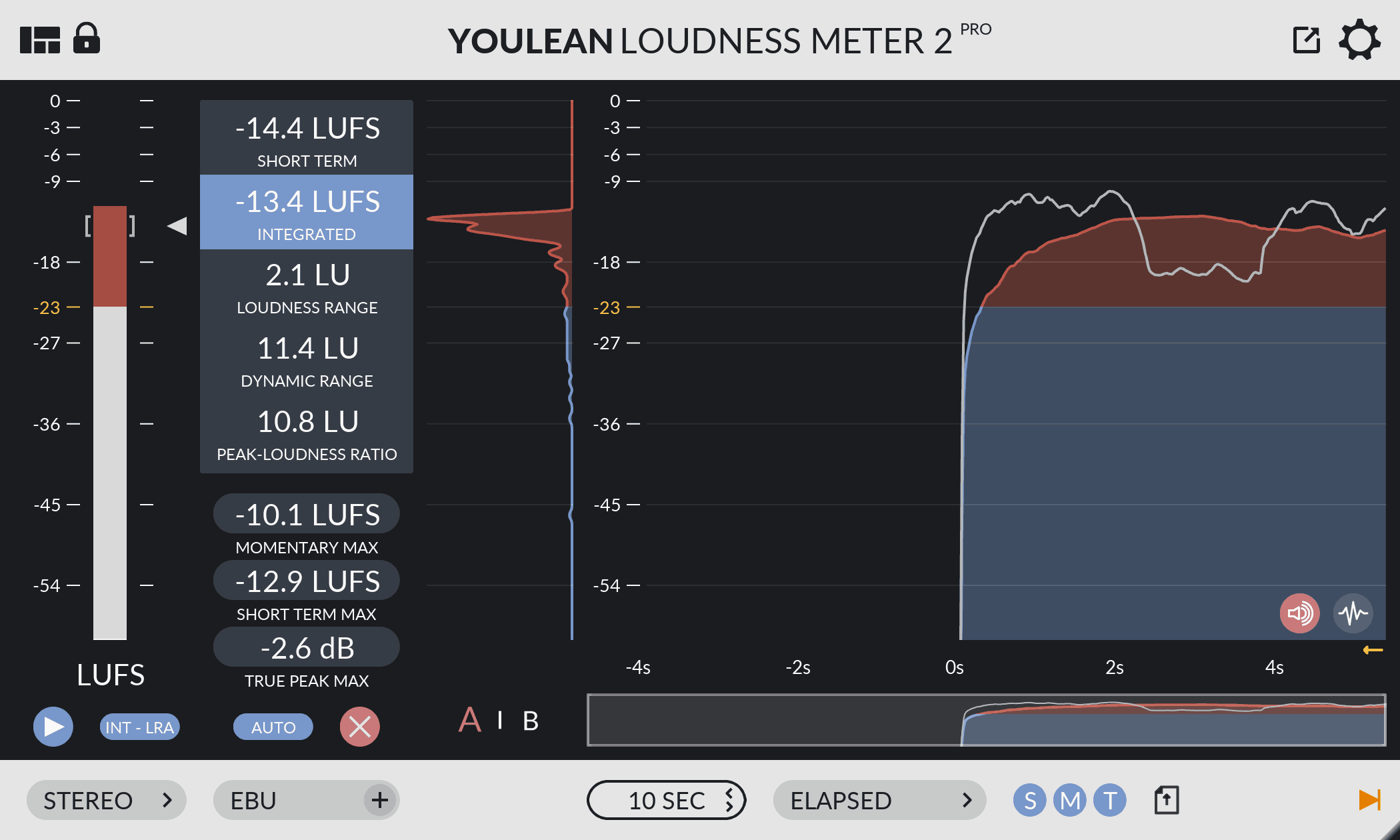 DAW plugin and app
Works in almost any DAW: FL Studio, Logic Pro X, Final Cut Pro X, Ableton Live, Reaper, Cubase, Pro Tools…
Available application,  VST2, VST3, AU and AAX plugin formats, Windows and macOS operating systems.
Measure loudness
Helps you comply with strict loudness requirements for the Film and TV industry.
Helps you get the correct loudness levels for upload to Spotify, YouTube, Apple Music, Apple Podcast, Amazon Alexa, Amazon Music, and Tidal.
Measure dynamics
Prevent your mix sounding crushed and unprofessional.
Get the most out of your mix, make any track sound great on all streaming platforms!
KVR Developer Challenge WINNER
Youlean Loudness Meter was the winner of KVR Developer Challenge 2016.
As one of the prizes, the plugin was presented on NAMM Show 2017 in Los Angeles.
Youlean (Julijan Nikolic) is also part of the FL Studio alpha team, and many of his work like Patcher presets and ZGameEditor Visualizer effects are already part of FL Studio.
Why Youlean Loudness Meter?
"Once I learned about loudness metering using LUFS, I was really fascinated. The problem was that the plugins for measuring it were (and still are) really expensive and there were no free ones that can get you started.
So, I have decided to create a free loudness meter that will be even better than the most expensive ones."
Julijan Nikolic – Youlean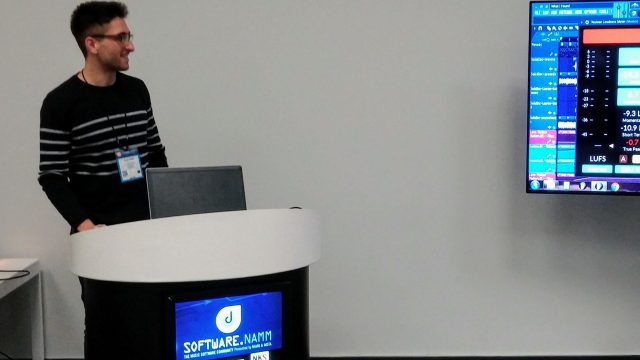 *Youlean Loudness Meter presentation at NAMM 2017, Los Angeles
Introducing The New PRO Version
*This was an initial release, and more features have been added in the latest updates.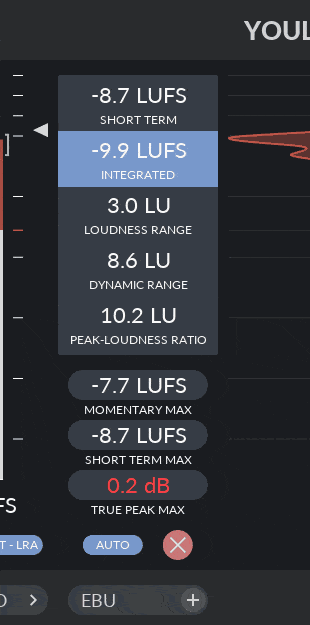 Film, TV and Gaming presets
Find out what regulation your country is using and use ITU-R BS.1770-4, EBU R128, ATSC A/85, OP-59, ARIB TR-B32,  AGCOM 219/09/CSP, ASWG-R001 HOME or ASWG-R001 PORTABLE preset to comply with the standard.
Make sure to sound great on Spotify, YouTube, Apple Music, Apple Podcast, Tidal, Amazon Alexa, Amazon Music or when streaming by using AES loudness preset.
Save custom presets to speed up your workflow.
GUI too small or too large?
No problem, freely resize or scale the plugin!
Experience insane plugin size customization.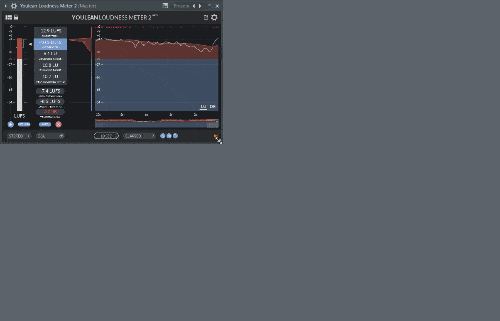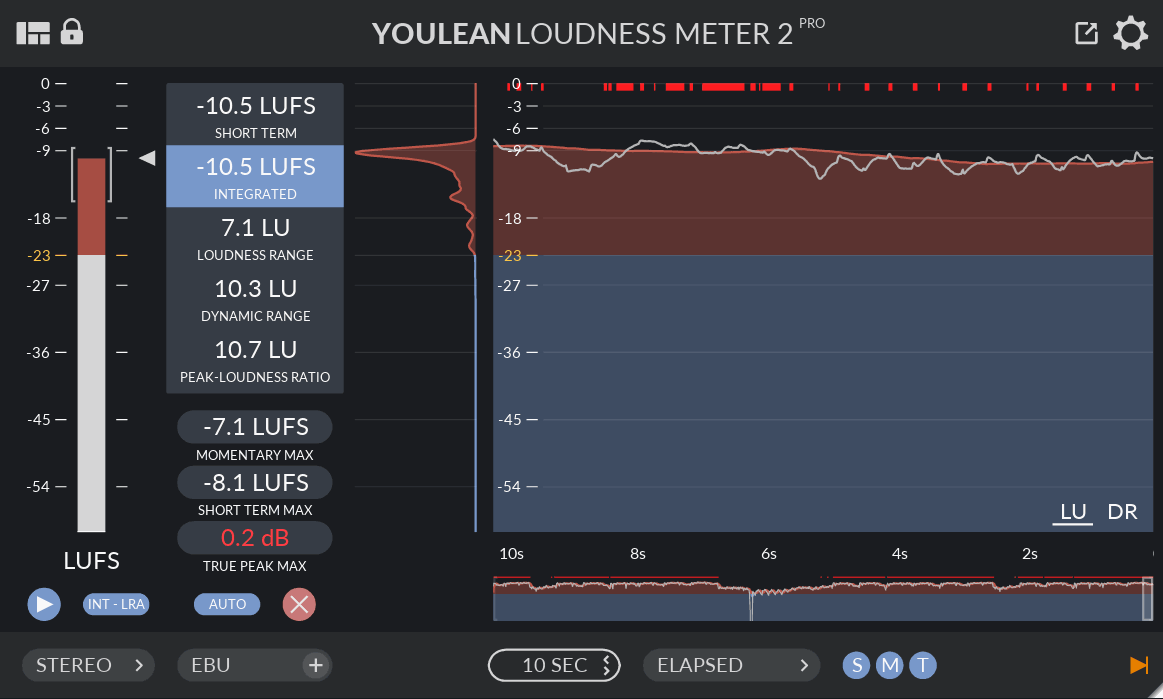 If you find graphs too distracting you can always switch to mini mode.
Fit precisely for your workflow.
Inspect what exactly is going on with the audio dynamics.
Using the dynamic range algorithm you can detect squashed or not correctly compressed mix.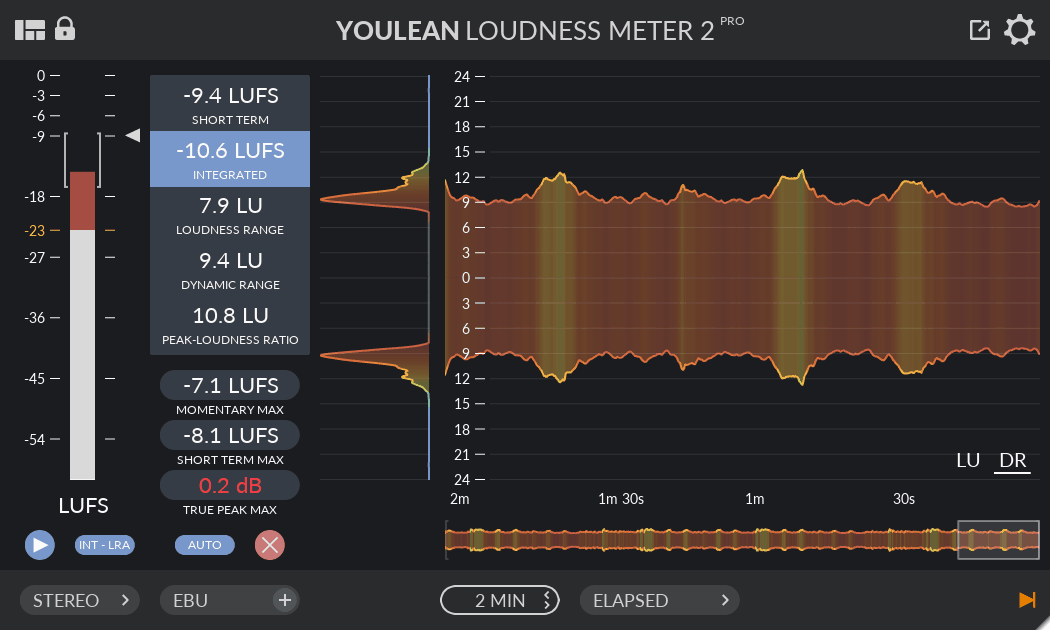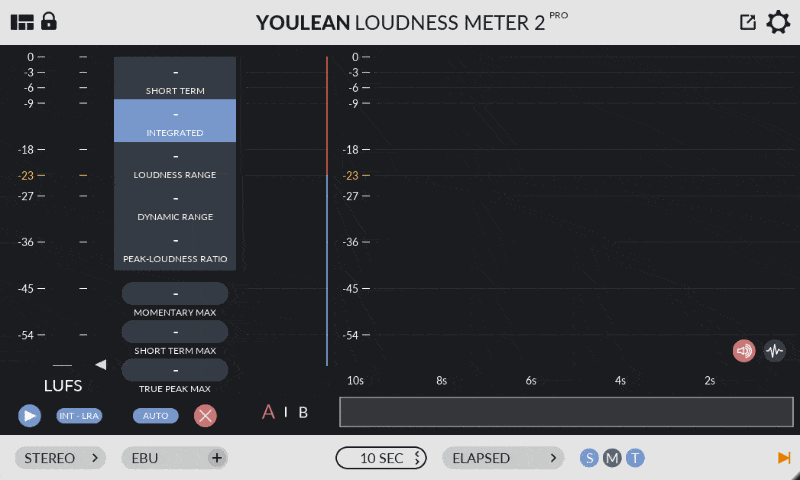 Get a quick and complete analysis by dropping an audio or video file on the plugin.
Get results in just a few seconds!
Compare two totally different measurements in just one click.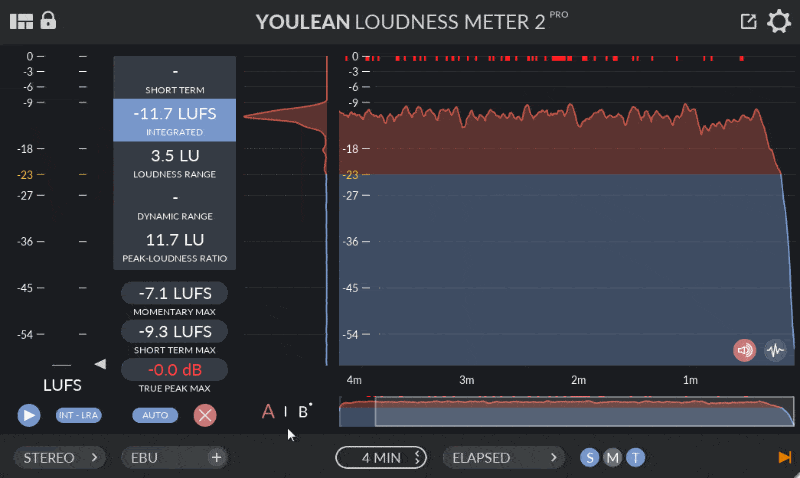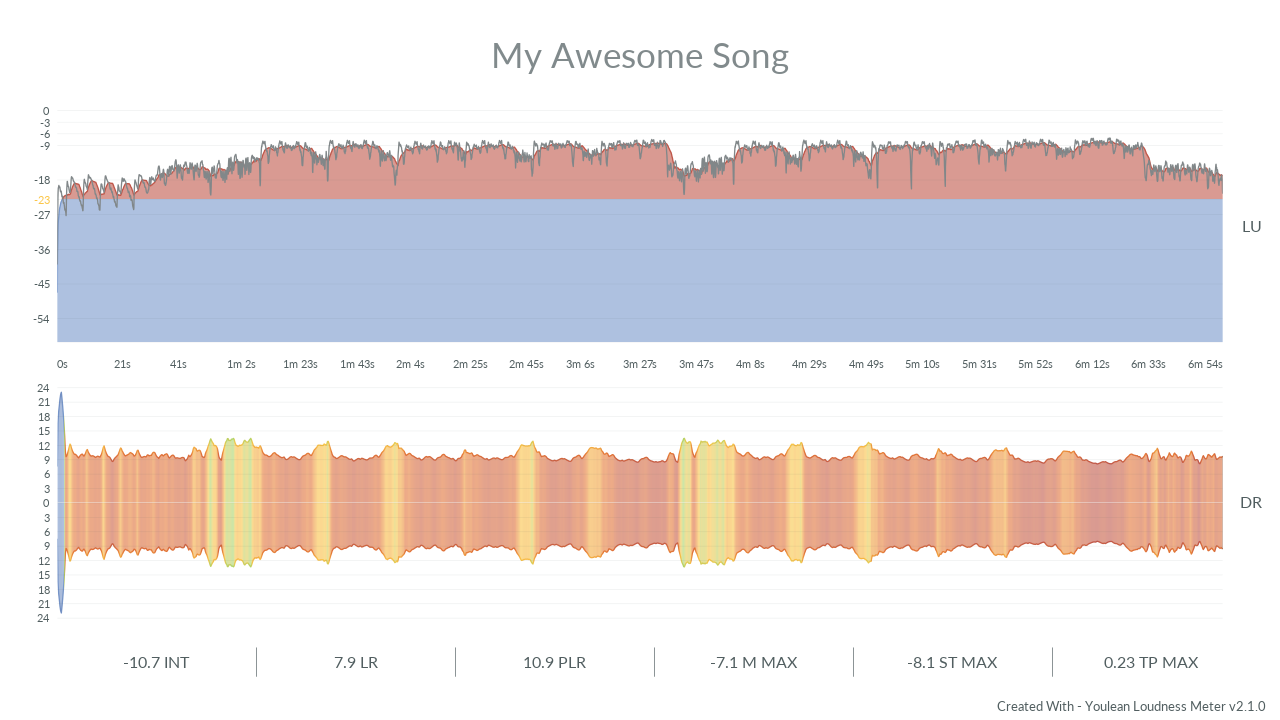 Export everything in PDF, PNG or SVG file
Easily export PDF, PNG or SVG of all your measurements.
In combination with system time coding, pinpoint the loudness problems in live events, or just make a wall poster of your favorite song!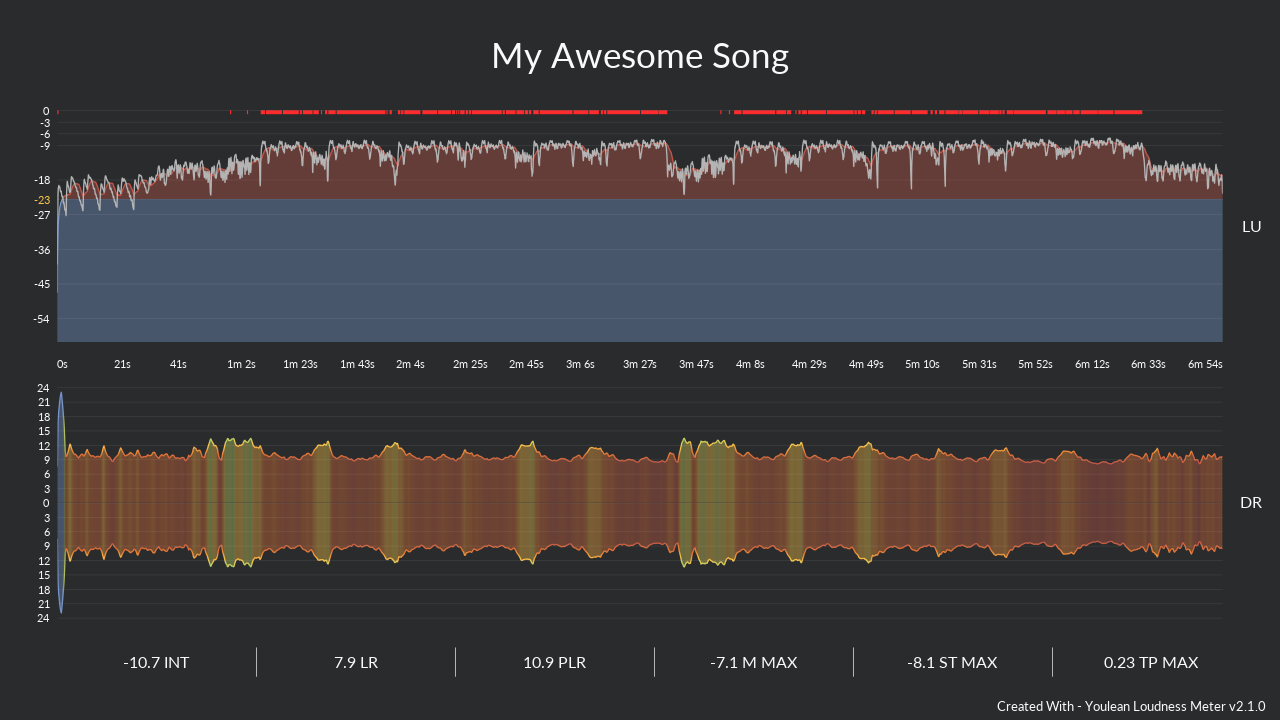 The plugin is calibrated and tested against ITU-R BS2217 testing materials.
It satisfies all requirements defined in ITU-R BS.1770 document.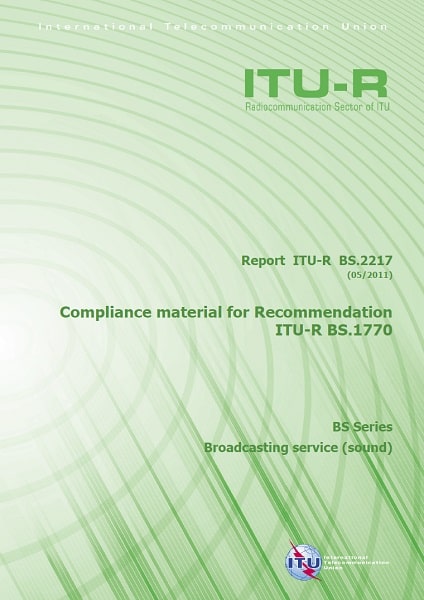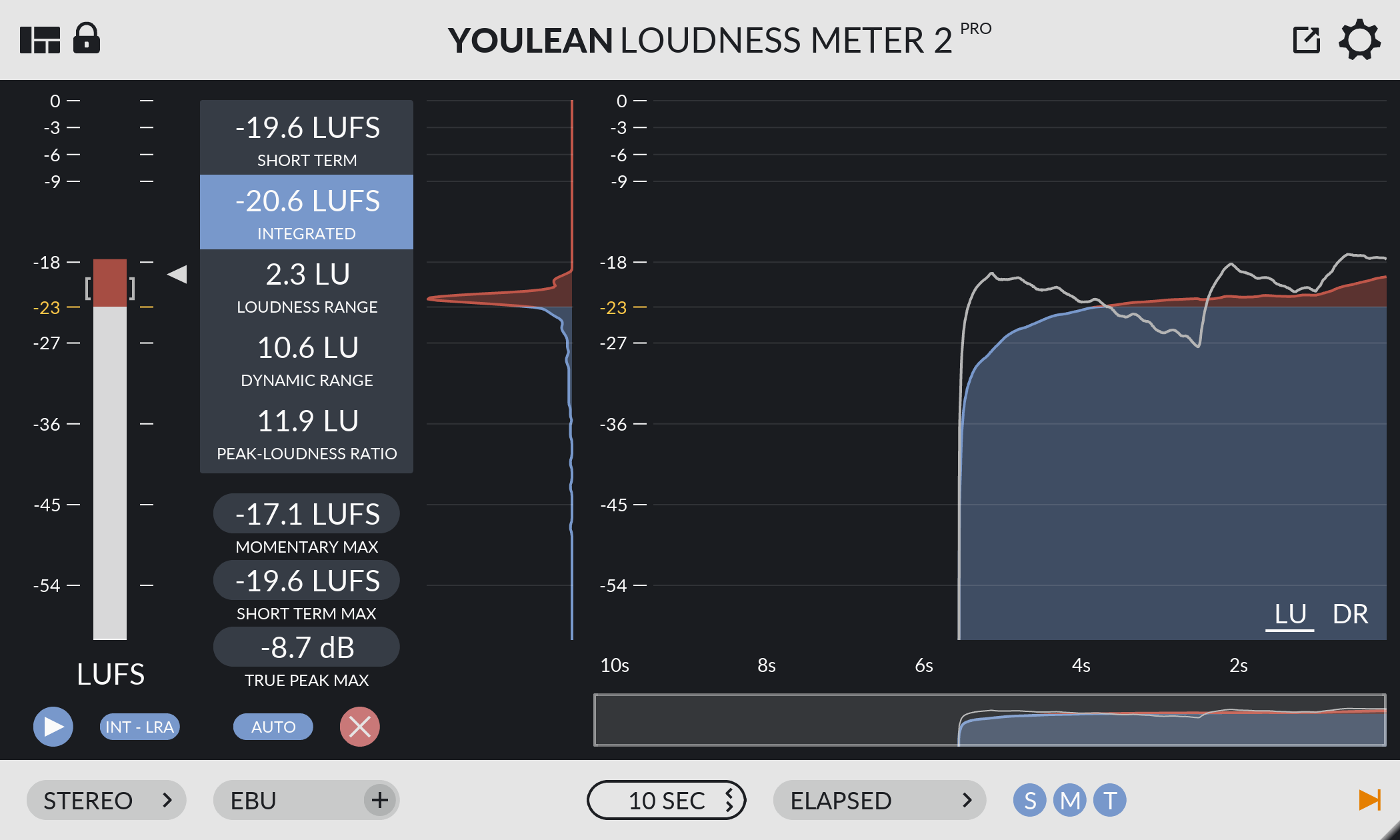 Adjust the visual appearance to your preference. Rest your eyes with the new dark theme.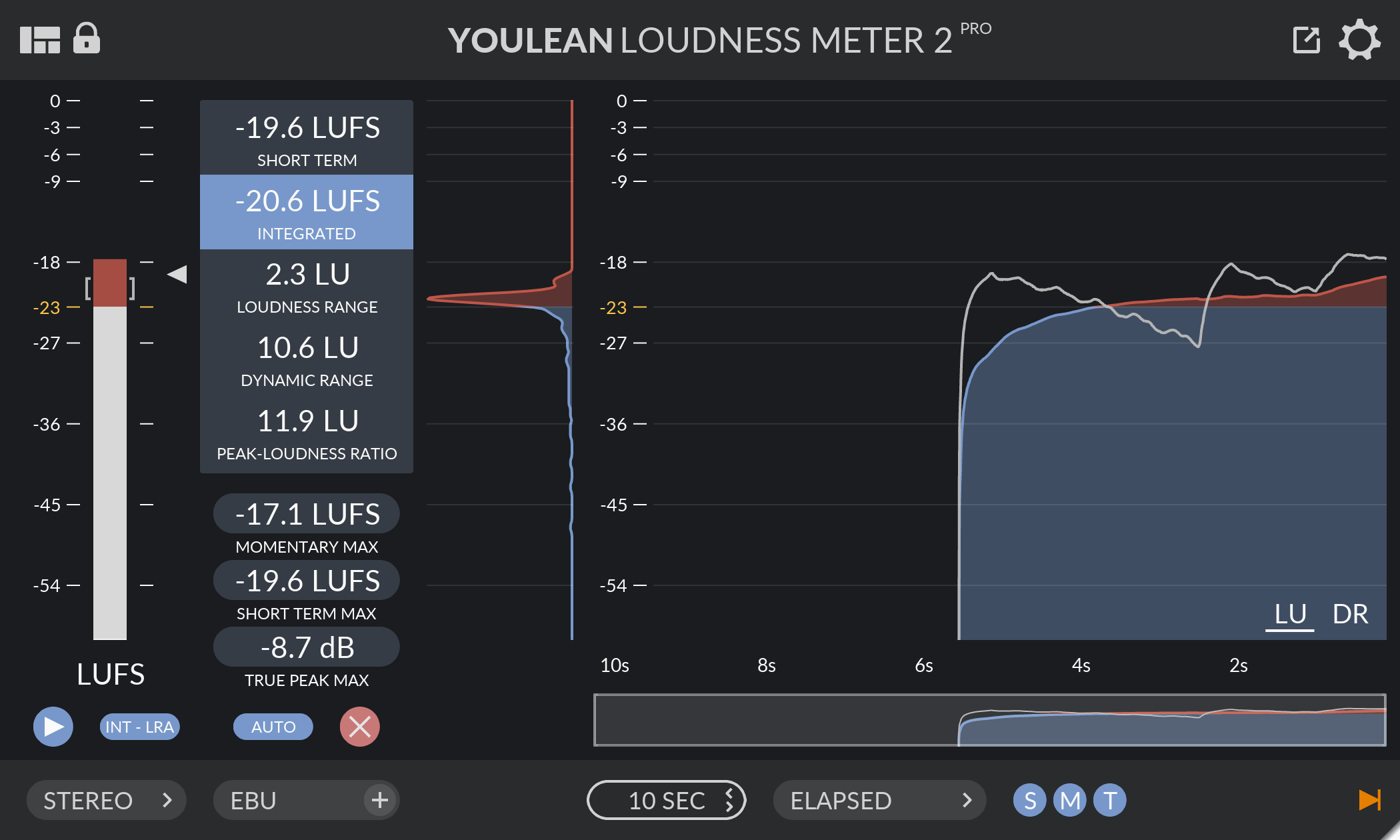 LUFS
This measurement is basically like RMS but with a twist. It takes into account how humans perceive loudness and it is currently the most accurate way of measuring loudness. The main difference compared to RMS is that LUFS uses filters to shape the sound before processing in a similar way to how we hear the sound.
LRA
This measurement will give you an idea of the difference in volume between the verse, chorus and other sections of your track. If there is a big difference in loudness between the various sections of your track then your loudness range will be a higher number and vice verse.
DR
Dynamic range metering will show you the levels of the compression in audio. The algorithm is based on a difference between true peak and short term loudness. The current implementation is improved version of the "PSR" algorithm which has problems measuring dynamics in audio that has fast changing quiet and loud sections.
TP
Knowing the true peak value is really important since it indicates the true maximum level of audio after conversion to analog or different digital form such as conversion from WAV to MP3. If your audio goes above 0dB TP you might get clipping in converted audio.
Every PRO User gets lifetime FREE updates!
Youlean Loudness Meter will continue to upgrade, many new features are yet to come. Buy once and get all the updates, everything for free.
As new upgrades roll on, plugin price might jump accordingly, so why not take advantage of lifetime FREE updates right now…
Why lifetime FREE updates?
"I love audio software, and there are some really cool companies and really cool plugins, but man, there is no worse feeling in the world when you need to PAY for the bugfixes i.e. updates. I really hate that, and I really hate that this is the way most of the audio companies do the business.
This is not how I want to sell the software and that's why I guarantee the lifetime free updates."
Julijan Nikolic – Youlean
Film, TV and Gaming presets
LU, INT, TP, LRA, PLR, DR readouts
Resizing, scaling GUI
Mini view
Custom true peak alert threshold
True peak and loudness graph
Loudness distribution graph
Automatic loudness overdub
Mono, Stereo, and 5.1 channel
Low CPU consumption
Fluid, animated GUI
Everything in FREE, plus

Streaming presets

Dynamics graph

PDF, PNG or SVG export

Saving custom presets

Text scaling

Dark and light theme support

A/B save states

Drag & drop analysis

Lifetime FREE updates

30 days money back guarantee
Can I install Youlean Loudness Meter on multiple computers?
You can use the plugin on multiple computers as long as these are your personal machines and you are the only user.
This option is not applicable to companies, organizations or schools, they need to purchase a multiple license version.
Can plugin alter the audio so that it fits the selected standard?
No, currently the plugin is only doing the analysis, and it can not alter the audio loudness.
This feature might be added in the future though.
Is there an EDU discount?
Yes, if you are a student or a teacher you can qualify for an educational discount of 30%. You need to contact me before the purchase.
Contact me HERE.
Youlean Loudness Meter Overall rating: 5 out of 5 based on 19 reviews.
★★★★★
"
Accurate measurement, very good and clean GUI, great features (especially the graph, which can also save its state into the project file!) and the price (plus lifetime free updates) are unbeatable to me. I wish I bought this plugin earlier to save some mixing time. (=
"
★★★★★
"
HI I am an electronic music producer from China. Thank you very much for making such a good software to help us musicians to use real data to make the right checks for our music, but I have found a problem. Is the software that has the support of the Chinese character library, the Chinese display is garbled, I hope you can improve this problem, I will be very willing to recommend our Chinese electronic music people to use your software, thank you!
"
★★★★★
"
Not gonna lie, this plugin helped me quite significantly with my mastering and mix-downs! When I first heard of this plugin from a video from In The Mix, I knew I just had to get my hands on it. When I did, I found my audio quality and loudness more consistent. Thank you so much for a free loudness analysis plugin! I'm considering buying Pro...
"
Great plug-in
★★★★★
"
Simple and easy to use, worked straight away with my DAW, a great tool to keep an eye on volume levels.
"
Audio engineer
★★★★★
"
Working with audio post production for broadcast requires a good meter that can measure LUFS. Other meters like izotope insight does this for you but comes with a high price tag. Youlean does all this equally well for free. And the pro version is very reasonably prized. What's not to like...
"
Me Encanta ¡¡¡
★★★★★
"
Me encanta este plugins, Simple, Sencillo y Eficaz. Y también la historia de su creador, Inspiradora. Enhorabuena Youlean ¡¡¡ 😉
"
Best LUFS meter with easy to eyes
★★★★★
"
I have used quite a lot of Loudness meter in the past but this is yet the most eye pleasing and useful to me. I been using it since Youlean introduce it in the Image-Line forum as a beta, and as far as I can remember I stopped using TTmeter because of this. and with the Pro version it gets more variety of useful tools specially if you want your music to get a decent dynamics for streaming and Youtube. Just a wonderful plugin IMO.
"
Great interface and tools
★★★★★
"
I love the simple and scaleable interface. The meters helps alot when mixing/mastering. To the price its a great tool. A must have
"
The hidden Game!!!
★★★★★
"
HI, Have anybody found the hidden game? I have, but unfortunately I suck at bird game 🙂 and it is music we are trying to write 😉 But anyway, this is one of the best tools on the market, if you look at the price, nobody else comes close! I'm really looking forward to the next plugin, whether it's Freq-Balancer V3 or anything else. Good luck.
"
Mr
★★★★★
"
I started using Youlean Loudness Meter a few days ago and I found it very useful and CPU friendly. A must have for all the producers and engineers who want a metering plugin which delivers immediacy, accuracy and ease of use.
"
Me encanta
★★★★★
"
El mejor plugin de medición que conozco, lo utilizo siempre es muy bueno.
"
The Best LUFS Meter I've Experienced.
★★★★★
"
When LUFS started to become mainstream, we started to see a lot of expensive commercial plugins. After seeing Youlean's Loudness Meter, I was amazed at his generosity for providing it FREE, but also including an attractive GUI and including the features we need to get the required results. I'm very grateful for the Youlean Loudness Meter, and excited for what Youlean has planned for the audio community in the future! # GratuiTous
"
Must have
★★★★★
"
As Audio engineer i always looking for a great metering plugin. Beside the metering tools in WaveLab Pro, i want a plugin that i also can use in other DAWs like Cubase Pro or Logic. With Youlean Loudness Meter i have a great tool. It fits to my needs and it is one of the best loudness meter. Thank you Youlean (Julijan) for your great software. It is already a must have plugin for me.
"
Awesome
★★★★★
"
Every day I receive a lot of audio files, all in different loudness. Sometimes I have a conversation of 3 people recorded on 3 track on 3 different loudness level. Thanks god I have Youlean Loudness Meter! It helps me not to go crazy. Thank you for this amazing tool.
"
- Krystian * podcastva.pro
The best!
★★★★★
"
Just a top-notch plug-in for mastering, and it's friggin' FREE! What do you want more?
"
- Cedric "ceeazy" Schmitt
great plugin !
★★★★★
"
I use Youlean meter plugin for monitoring my streaming for see if the ebur128 rule is respected .It's very good plugin and very stable with last beta.
"
A fantastic plugin
★★★★★
"
I was on the hunt for a plugin that showed me different measurements for mixing tracks for TV, Radio production. I found Youlean and never had to go any further. I work in Ableton Live and I have never had a single problem with this plugin. The options to change measurement types is amazing and the flexibility of the loudness meter is just second to non!
"
Mixing & mastering engineer
★★★★★
"
Works great on PC & Mac, tried it on Cubase, Logic Pro X and Pro-Tools. The PDF option it cool and all the different loudness options are well presented. If there is a specific thing that you would like me to test, please send me an email. If i'll come across any problem, i will send you another review. Cheers!
"
Audio Director/Engineer
★★★★★
"
Thanks for a great free tool. I just ran it alongside another well-known meter to get some 'insight' 😉 on how it tracked on a tv recording session. It measured very well for OP59. Was tracking integrated loudness exactly in time with the other meter. Well done.
"
NOTE: If you have any problem with the plugin, make sure to contact me first here.
Sign up for the newsletter: