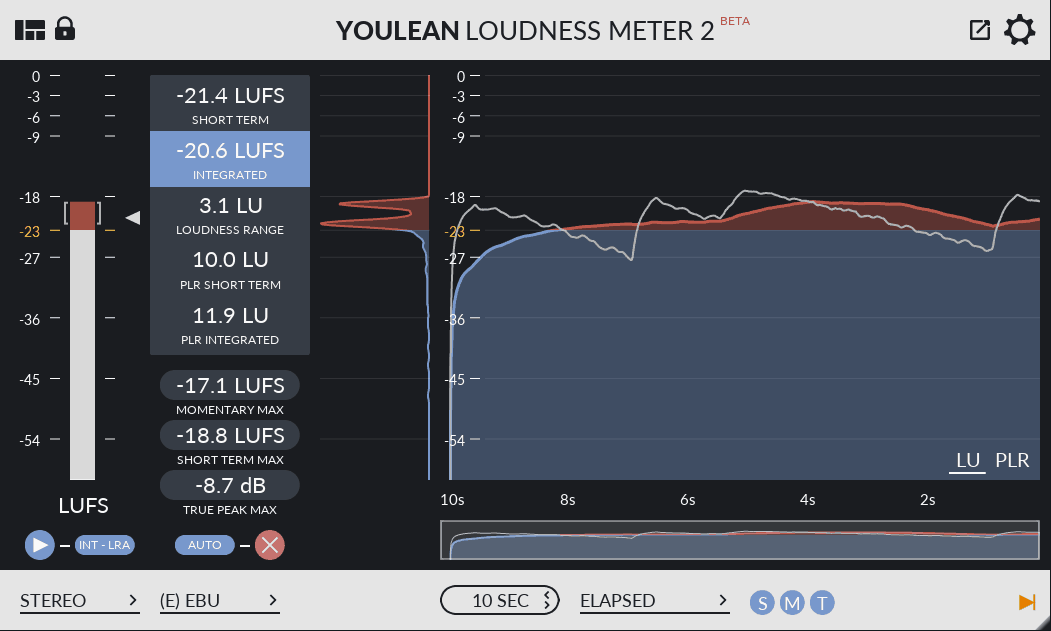 Youlean Loudness Meter is your ultimate free VST, VST3, AU and AAX plugin for loudness measurement.
Featuring
International standards compliance.
Resizable interface.
Histogram and distribution display.
Multi channel support.
Smart Loudness Memory.
International standards compliance
ITU-R BS.1770-4
EBU R128
EBU R128 S1
ATSC A/85
OP-59
ARIB TR-B32
AGCOM 219/09/CSP
Channel support
Mono
Stereo
5.1 DTS
5.1 ITU
5.1 Film
Smart Loudness Memory
Smart Loudness Memory will speed up your workflow by saving all data with DAW session and recalling it after you reload the session.
Changelog
V1.9.9 – BETA – July 20, 2018
Improved GUI performance
Added GUI animations
Added preview for PLR histogram
Fixed not being able to see the GUI interface
Fixed not being able to resize GUI interface in vMix
Fixed empty 2 button panel on GUI open
PRO – Added registration panel
V1.9.8 – BETA – June 28, 2018
Fixed "Pro Tools ran out of CPU power" bug
Added Audio Suite version of the plugin for Pro Tools
Changed GUI design (still work in progress)
Added option to check for updates from the plugin
Added "Pause Measurements" button
PRO – Added option to set focus on readouts
Resizing performance improvements 
V1.9.7 – BETA – May 7, 2018 
Fixed hold max values not resetting after a 

mouse

click

Added AAX plugin type for macOS and Windows
Stability improvements
V1.9.6 – BETA – May 2, 2018 
Fixed VST3 not working in Studio One
Fixed VST3 not working in vMix
Fixed bug when moving color splits will freeze vMix
V1.9.5 – BETA – May 2, 2018
PRO – Added settings for PLR graph, alerts, optimizations
PRO – Added pdf export option
Fixed PLR-I measurement error after project reload
Optimized binary size
Reduced CPU usage by ~30%
Minor GUI tweaks
v1.9.4 – BETA – Apr 1, 2018
Fixed forced mono audio

Fixed some crashes
v1.9.3 – BETA – Apr 1, 2018
 

Fixed broken v1.9.2 build that will crash sometimes
v1.9.2 – BETA – Mar 31, 2018
PRO – Added loudness target knob

Added check if a plug-in interface can fit the monitor screen

Added buttons to reset window size and scaling

Added loudness range display

Fixed crash when switching to 22050 Hz sample rate

Minor GUI bug fixes
v1.9.1 – BETA – Feb 28, 2018
Fixed Time Code behavior when "Auto Reset" feature is turned on
Minor small bug fixes
v1.9.0 – BETA – Feb 7, 2018
Added smooth color transition option
Added PLR-Short Term and PLR-Integrated readouts
Added second color split
Added true peak graph display
Added Getting Started window
Added true peak graph display
Extended range of true peak threshold to -30 dB
Optimized graphics for macOS retina and Windows HiDPI mode
Optimized graphics performance
Fixed preset recalling
Fixed most of the resizing problems on macOS
Better compatibility with macOS High Sierra using AU format
GUI design improvements
Stability improvements
v1.5.0 – BETA – Jun 4, 2017
Added GUI scaling. Activate by ctrl+drag on resizing handle
Added view modes
Added continuous mode
Added fine control for true peak threshold
Fixed crashes in Cubase – VST3 version
A lot of stability improvements
Minor graphical glitches fixes
v1.0.5 – Jan 12, 2017
Added macOS installer
Fixed settings not sticking after project reload
Fixed jump when changing window size with the mouse wheel
Improved scrolling with histogram control
macOS stability improvements
Minor graphical glitches fix
v1.0.4 – Dec 12, 2016
Added manual.
Fixed small bug when switching from auto to non-auto in Time Code mode
Fixed wrong integrated and loudness range measurements if play position has jumped in the playlist
v1.0.3 – Dec 8, 2016
Fixed random resetting transport in Bitwig Studio
Many fixes regarding transport
v1.0.2 – Dec 6, 2016
Fixed AU crash at load in Ableton Live

Fixed true peak detection
Fixed a button that pauses integrated and loudness range measurements
v1.0.1 – Dec 4, 2016 
Fixed missing libraries on macOS
Fixed volume boost in FL Studio
Fixed FL Studio crash while detaching the plugin
Fixed Reaper crash after play in Windows
Fixed minor graphical glitches
v1.0.0 – Nov 30, 2016
Technical Details
Windows
Minimum OS version – Windows 7
Plugin formats – VST2, VST3
macOS
Minimum OS version – macOS 10.7
Plugin formats – VST2, VST3, AU
V2 version is around the corner!
Don't miss the FREE updates!
Or subscribe to newsletter:
Receive emails about updates and new product releases.
NOTE
Latest BETA versions should be more stable than V1.0.5.
v1.9.9 will expire on September 1, 2018. Then, you will need to update plug-in with a newer BETA version.
PRO version will be available for the purchase with the v2.0.0 release.
AAX is available only in the latest BETA version.
Windows – VST2, VST3, AAX – 32/64bit
macOS – AU, VST2, VST3, AAX – 32/64bit
The Best LUFS Meter I've Experienced.
★★★★★
"
When LUFS started to become mainstream, we started to see a lot of expensive commercial plugins. After seeing Youlean's Loudness Meter, I was amazed at his generosity for providing it FREE, but also including an attractive GUI and including the features we need to get the required results. I'm very grateful for the Youlean Loudness Meter, and excited for what Youlean has planned for the audio community in the future! # GratuiTous
"
Must have
★★★★★
"
As Audio engineer i always looking for a great metering plugin. Beside the metering tools in WaveLab Pro, i want a plugin that i also can use in other DAWs like Cubase Pro or Logic. With Youlean Loudness Meter i have a great tool. It fits to my needs and it is one of the best loudness meter. Thank you Youlean (Julijan) for your great software. It is already a must have plugin for me.
"
Awesome
★★★★★
"
Every day I receive a lot of audio files, all in different loudness. Sometimes I have a conversation of 3 people recorded on 3 track on 3 different loudness level. Thanks god I have Youlean Loudness Meter! It helps me not to go crazy. Thank you for this amazing tool.
"
- Krystian * podcastva.pro
The best!
★★★★★
"
Just a top-notch plug-in for mastering, and it's friggin' FREE! What do you want more?
"
- Cedric "ceeazy" Schmitt
great plugin !
★★★★★
"
I use Youlean meter plugin for monitoring my streaming for see if the ebur128 rule is respected .It's very good plugin and very stable with last beta.
"
A fantastic plugin
★★★★★
"
I was on the hunt for a plugin that showed me different measurements for mixing tracks for TV, Radio production. I found Youlean and never had to go any further. I work in Ableton Live and I have never had a single problem with this plugin. The options to change measurement types is amazing and the flexibility of the loudness meter is just second to non!
"
Mixing & mastering engineer
★★★★★
"
Works great on PC & Mac, tried it on Cubase, Logic Pro X and Pro-Tools. The PDF option it cool and all the different loudness options are well presented. If there is a specific thing that you would like me to test, please send me an email. If i'll come across any problem, i will send you another review. Cheers!
"
Audio Director/Engineer
★★★★★
"
Thanks for a great free tool. I just ran it alongside another well-known meter to get some 'insight' 😉 on how it tracked on a tv recording session. It measured very well for OP59. Was tracking integrated loudness exactly in time with the other meter. Well done.
"
Sign up for the newsletter: